Growth Trends for Related Jobs
Finding a job, whether your first or your fifth, is hard. Writing a good resume that will impress a recruiter or potential employer is well worth the effort. Your resume is vital to your job hunt, as it is an employer's first look at you, your experience and what you can bring to the position. Keeping that in mind, you must include a few necessary pieces -- an objective, a skills summary, a list of your experience and a brief look at non-work related activities that could benefit the position. These things, together with a sparkling cover letter, will get you to the next step in the interviewing process.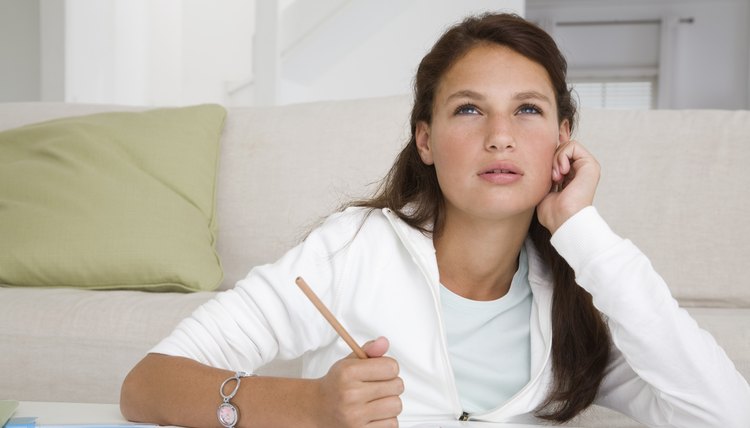 Jupiterimages/Goodshoot/Getty Images
Consider carefully each job you've had and write down information about them. List everything you did for each company. Then, create a separate list of important things you accomplished. For example, if you are a clerical person, your general list might include filing, answering phones and opening mail. Your important things might be an event you helped to plan or a spreadsheet you created. Include details such as the number of attendees or money saved. Also, list charity and volunteer work and leadership roles outside the work environment. Note any awards you won. Finally, list the dates of any college degrees or certifications you have earned. You will refer to this draft list as you complete your final resume.
Write an objective, usually no more than one sentence, that tells exactly what you are looking for. The objective statement should be customized for each job you are applying for. Put the objective directly below your contact information.
Format your employment history, working from your draft list. This section needs to read easily and should be a combination of text and bullet points. Put your current or most recent employer and when you worked there on the first line. The second line should be the company's city and state and the position you held there. Directly beneath this, write a short paragraph describing your duties. Important projects should be placed below that, highlighted by bullet points. Repeat this for your past three or four employers.
Jupiterimages/Photos.com/Getty Images
Create a bullet point list for your related activities. Only include the job your did, name of the organization, dates and a one sentence description of what the position entailed. Awards you have won should also be listed in this section. Education and certifications are the last part of the resume and should be listed with the degree or certification name first, school, and the date received.
Create a resume summary and place it under the objectives and above the history section. Hiring managers and recruiters review hundreds of resumes, and this quick look will grab their attention and make them want to learn more about you. This summary should be tailored to the position you are applying for, highlighting two or three items in your history that would make you perfect for the position. List them in bullet point format. For example, a secretary might write, "Highly skilled user of MS Office software programs" as part of the summary.
Add keywords and phrases to your resume. A careful review of the posted job description will give you a start on words or phrases to include. These will trigger a further look at your resume should the reviewer only do an electronic scan of the resumes received. For example, the title of the position, software programs you know and your management level could all be descriptive key words to include.
Review the resume for grammar and spelling. This is vitally important, as a cleanly written document shows the level of attention to detail you are capable of and demonstrates your knowledge of written communication and language.
Tip
Use power or descriptive verbs when creating your experience information. Verbs such as "accomplished", "achieved", "communicated" and "executed" all demonstrate the work was completed when working on a specific task.
Resources
Tips
Use power or descriptive verbs when creating your experience information. Verbs such as "accomplished", "achieved", "communicated" and "executed" all demonstrate the work was completed when working on a specific task.
Writer Bio
Based in Wisconsin, Danita Fausek's 30-year working career includes jobs in administration, construction, remodeling, teaching quality processes and art classes, and event planning. With a degree in photography, she ran her own business for more than 15 years. In addition, Fausek has immersed herself in various hobbies including gardening, needlecraft and jewelry making. She brings all of this expertise to her writing.
Photo Credits
Stockbyte/Stockbyte/Getty Images