Growth Trends for Related Jobs
The resume layout is important, because hiring managers usually take just over half a minute to determine whether your skills suit the positions they have available. Therefore, it is a good idea to arrange your resume so the information they need can be accessed quickly, while also showcasing a style appropriate to the job position. Use these ideas to create effective, memorable resumes with traditional, modern or creative layouts.
Resume Components
The building blocks of a resume include your name, contact information, job objective, list of skills, education summary and employment history. The information can be organized in various positions on the page to create interest, but the resume should make it easy for hiring managers to find the information they need by making your skills the most prominent.
Traditional Resume Layouts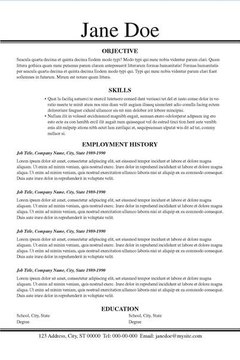 Traditional resumes use one column, or the whole width of the page, for all the content. These resumes work well for careers in medicine, law and finance. Many corporations use text scanners to put resumes into a searchable database, which makes a one-column layout the best choice if you apply to this type of business.
A traditional one-column layout has a header on top, which can include your name and contact information. Your objective and skills should come first under your header, making it easy for hiring managers to skim. Finally, employment history and education follow in the body of the resume. Rather than placing the contact information in the header, it can go in a footer at the bottom of the page. The header, section titles and footer can be centered on the page or aligned on the left.
Modern Resume Layouts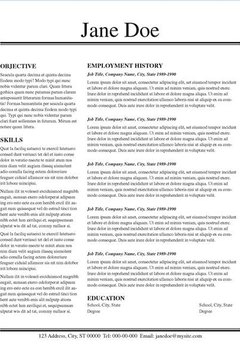 Modern resumes are a slight variation of a traditional resume.These resumes can be used to apply for positions in office management, sales and marketing. A modern resume creates interest by using an asymmetric arrangement.
Using narrow side columns can add creativity to the resume layout. The name, contact information and summary of qualifications can be put in the left or right column, and then the remaining area can hold your employment history and education. The left column can be used for headings, and the accompanying information can be indented to the right.
Creative Resume Layouts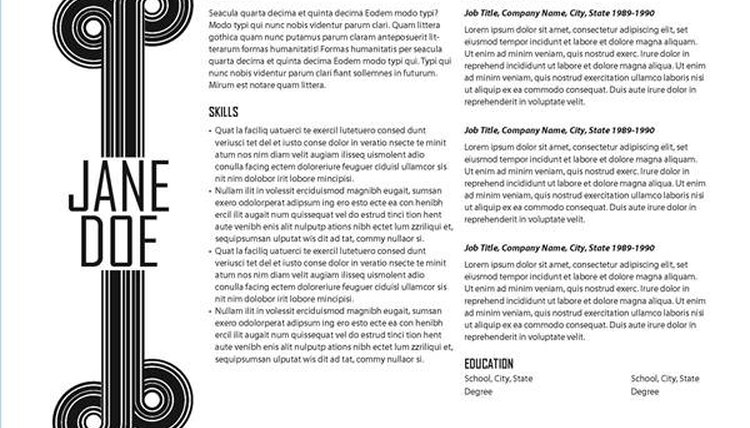 Creative resumes move away from traditional layout elements to showcase artistic abilities and are appropriate for arts professions in design, writing and photography. A creative resume should highlight your imagination and ability to "think outside the box."
A two-column resume layout can help focus on your skills and fit more information and graphics on the page. The left column can contain your summary of qualifications and education, while the right can contain your employment history.
Try a horizontal resume layout by flipping the page sideways. If the hiring manager has to turn the paper to look at it, he may most likely remember you out of the other candidates (especially if you also have good content).
References
Resources
Writer Bio
Meagan Van Beest took up writing after graduating with a bachelor's degree in English literature. She has worked in advertising and marketing for the past decade. Her writing has appeared in advertising, brochures, newspapers and online magazines. Currently, as creative director of a design firm, she oversees the graphics, copy writing, and creative direction of print and Web design projects.