Growth Trends for Related Jobs
Recording dictation as an audio file for later transcription is an alternative to the classic short-hand or long-hand recording of what is being said. Advantages include both speed and accuracy, as the actual spoken word can be reviewed over and over again as it is rendered into a document.
Record the dictation, preferably on a device that can be connected to a computer so that you can download the audio.
Transfer the audio onto your computer and into the transcription software. If you used a tape recorder, the sound must be recorded through the microphone or an mp3 or tape cassette player connected to the computer. Save as an audio file and upload into the transcription software.
Open up your word processing program, and connect your headphones and foot pedal. Some foot pedals come with an USB jack for easy connections. Make sure that your foot pedal is configured to your transcription software. Follow the instructions from both the foot pedal and the transcription software on how to make the connection.
Put on your headphones, press the foot pedal, and begin typing what you hear into your word processing program. Usually the large middle section is play and pause--press for play; press again to pause--the right section is rewind, and the left section is fast forward. You will get used to using these, and it is similar to sewing or driving a car.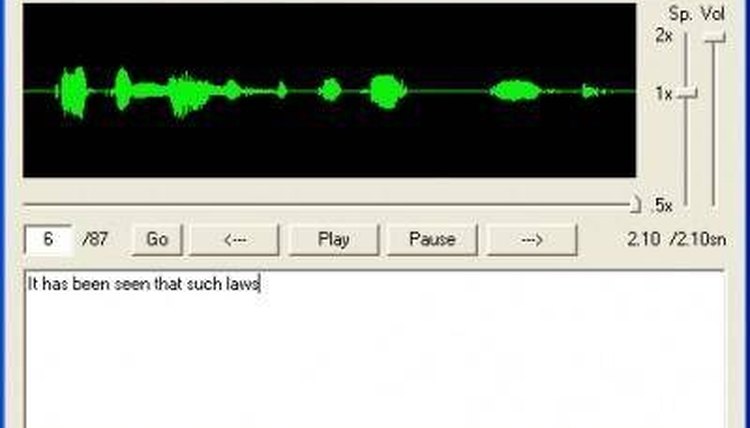 Type the dictation as you hear it. Spell properly, and use proper punctuation. Make easy to read paragraphs that are not longer than five lines. Put a space between each paragraph, and follow any other formatting guidelines for the assignment.
When it is completed, perform a spelling, grammar and punctuation check. Re-listen to the dictation. You may be able to speed it up, if you can hear clearly, to save on time. For example, if the audio file is 30 minutes long, you may be able to cut your re-listening time down to 20 minutes.
Save the document and submit it according to instructions, either in printed form or on the computer. Saved documents can easily be uploaded to email, servers, websites or to any other location that is specified.
Tip
Take your time, however do not move slowly through the dictation. It may be due within a specified time frame. Develop your typing skills to move faster. Try to hear and remember whole phrases so that you are not just typing one word at a time.
Warning
Do not submit work that is not professional--no misspellings, grammatical errors, and missed or omitted words.
Digibox Store, Rbytes Reviews