Growth Trends for Related Jobs
You can make the most of your case of wanderlust with a career in the travel industry. Traditional jobs, such as airline stewardess or pilot, might spring to mind, but in reality, there are a wide range of exciting jobs that can reward you creatively and financially and also satisfy your love of travel. The U.S. Department of Commerce reports that the travel and tourism industry enjoys a 7.2 percent growth rate.
Luxury Travel
If you already have travel experience under your belt, share that knowledge with paying customers as a luxury travel agent. This job is suitable for people from a variety of career backgrounds. Just make sure that, before you start, you already have a solid list of potential clients, whether these be family and friends or business contacts. Sign up with agencies such as Virtuoso that can deliver benefits to your client and sign up for relevant travel newsletters like Travel Pulse and Luxury Travel Advisor for all the latest news and deals. Then establish your social media presence and, most importantly, focus on quality. Your clients will want an experience that separates them from the tourism treadmill. Deliver memorable trips and you'll have new bookings and references to spare.
Tours
Pixland/Pixland/Getty Images
Any tourist hot spot is a great place to get established as a tour guide. You don't need to be a native resident though you will need a solid handle on the culture, history, and knowledge of gems such as hot restaurants and hidden attractions. Learning your new country's language is also a great asset. Courses in guiding are also available and will allow you to register as a qualified guide, just ensure that the institute is accredited by the Institute of Tourist Guiding. You can either work as guide at a specific attraction or develop a themed tour -- the more unique, the better. Whether you're leading a tour of haunted houses in New Orleans or of markets in Istanbul, establish yourself as an authority in your chosen niche. You'll also want to check the Association of Professional Tourist Guides for current fees charged by qualified guides.
Airline Industry
The airline industry offers more than just the chance to be an airline stewardess. You can also work in customer service, air traffic control, engineering, or even as a tour operations manager, as airlines are now offering their own travel planning. First, expand your knowledge by signing up for industry newsletters, such as Careers That Move, and researching available positions in your favorite airlines. You might also consider additional training, either vocational or academic, such as a diploma in Travel Operations Management or a B.A. in Travel and Tourism. Travel experience and knowledge of foreign languages are also big bonuses so brush off that old English-French dictionary.
Travel Writer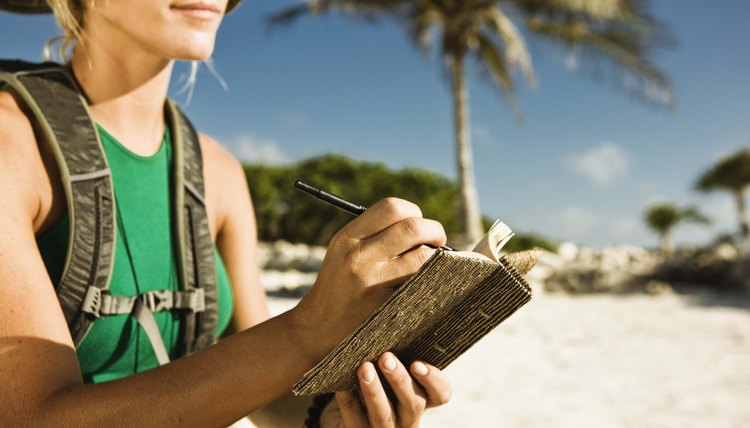 Jupiterimages/Brand X Pictures/Getty Images
Travel writing is a notoriously hard business to break into. Ease into it by meticulously blogging about your world travels and promoting your efforts on social networks such as Facebook and Twitter. Ask other bloggers if you can write a guest post and ask them to include a link to your blog. At home, contact and write for your local news website. Accumulating clips from recognized news outlets, even if they're not travel-related, will help you establish a portfolio. Then, think small -- not Travel & Leisure magazine, for instance. There are plenty of online travel networks such as Matador, BootsnAll, The Expeditioner, and World Hum that are more likely to accept your submissions. Matador even offers a course in travel writing that will help you build the skills to get your work noticed. Above all, be persistent.
References
Resources
Writer Bio
Alana Vye is a Canadian writer living abroad. She had a Bachelor of Arts in English literature from the University of Toronto and has worked in online marketing and publicity. She's also an avid traveler who has visited Asia, Europe and Central America.
Photo Credits
Jupiterimages/Pixland/Getty Images