Flight attendants only need a high school diploma or GED, but anyone who wants to be a flight attendant needs extensive training. Training focuses on in-flight customer service, but flight attendants also are charged with preparing and securing the cabin during flights and ensuring the safety of passengers. Some independent schools offer flight attendant school training in Texas, and one major airline trains its own flight attendants in Dallas and Houston.
Higher Power Aviation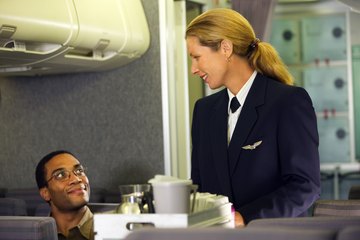 Founded in 1994, Higher Power Aviation offers both flight school training and flight attendant training. The flight attendant training school prepares graduates for careers as professional cabin crew members for corporate and general aviation aircraft. Company president and chief executive officer Mark Sterns has a background in aviation training that dates back to 1982. Higher Power Aviation also provides consulting services to airlines looking to further their employees' education.
Higher Power Aviation 4650 Diplomacy Road Fort Worth, TX 76155 817-445-7000 Higherpoweraviation.com
Southwest Airlines Training
As many airlines do, Southwest Airlines operates its own training school for flight attendants. The training focuses on safety, cabin preparation and passenger service aboard Southwest flights. The company trains flight attendants from all of its locations, including Dallas and Houston. Approximately 130 flights depart daily from each of the cities, and Southwest's headquarters are in Dallas. The company was incorporated in 1971 and became a major airline in 1989. It operates more than 3,200 flights daily across the United States. According to their website, that makes it the largest U.S. carried based on the number of domestic passengers. Southwest employs 35,000 people.
Southwest Airlines P.O. Box 36611 2702 Love Field Drive Dallas, Texas 75235 800-435-9792 Southwest.com
Corporate Flight Attendant Training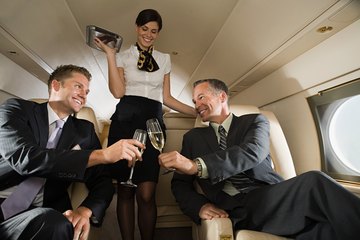 Corporate Flight Attendant Training offers a training school in several U.S. cities, including Dallas, Texas. The program provides extensive training to flight attendants over four days. The schooling covers the skills and tools needed by those who work as corporate flight attendants. The course focuses somewhat on the importance of catering to business flyers. The company was founded in 1999 by Susan C. Friedenberg, who has been a corporate flight attendant for more than 24 years.
Corporate Flight Attendant Training 241 S. Sixth St. Suite 1806 Philadelphia, PA 19106 215-625-4811 Scffatraining@aol.com