Teacher's assistants provide teachers with help in the management of the classroom and the education of children. The educational requirements for an assistant teacher vary by location with some institutions requiring a high school education and others requiring some college. Forty percent of teacher's assistants work part-time, according to the Bureau of Labor Statistics.
Clerical Support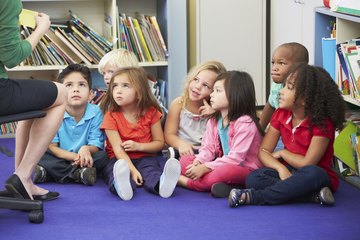 An assistant teacher provides assistance with clerical duties such as filing, copying, typing, keeping attendance records and grading papers. The work that an assistant teacher performs allows the teacher to spend more time working on lesson plans and teaching students. Other clerical duties include ordering materials for the classroom such as pens, pencils, paper and other supplies.
Assist Children with Lessons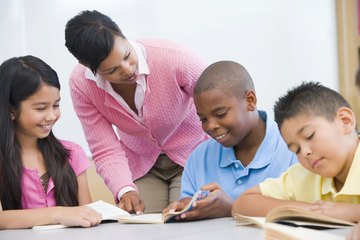 Assistant teachers aid children with lessons and work in the classroom. A teacher's assistant might take small groups of students to help them with lesson plans and review the work covered by the teacher. The assistant also helps students individually prepare homework and do research for class projects. Students having trouble with classroom materials might receive individual help from the assistant.
Bilingual assistant teachers help students who do not speak English as their first language as well as students who need remedial assistance.
Assist Supervision of Students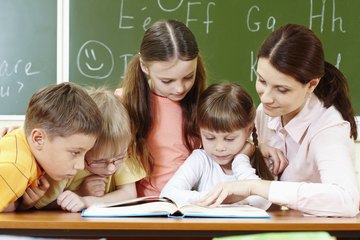 Teacher's assistants supervise children during activities outside of the classroom such as recess, lunch and field trips. Lunchroom attendants are teacher's assistants, according to the Bureau of Labor Statistics.
Material and Equipment Preparation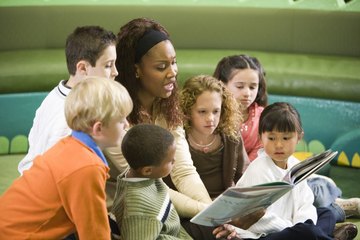 The assistant handles classroom audio-visual equipment such as televisions, overhead projectors and computers. The teacher's assistant might retrieve the equipment and set it up before the lesson. After the lesson, the assistant returns the equipment to its proper location.
Assist Disabled Children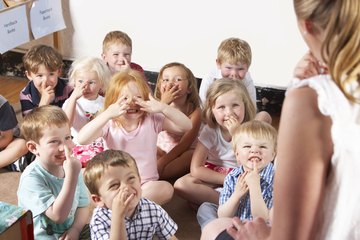 Teacher's assistants who work in special education provide physical aid to disabled children in the classroom. This can include feeding students during mealtimes, helping students on and off the school bus and teaching students about grooming.
Interact with Parents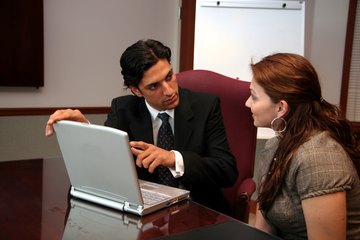 The assistant teacher is available during parent-teacher conferences and should be a contact person for parents. The assistant helps during parent meetings by directing and welcoming parents to the school and classroom before the meeting with the teacher.
The assistant provides help during school activities that parents attend, such as open house events or school plays.