Growth Trends for Related Jobs
Expectant mothers often have to make the difficult choice between keeping their job or staying at home full time with their new baby. Giving up a much-needed paycheck sometimes makes staying home with the kids impossible. Thankfully, many opportunities exist for pregnant women to work at home, allowing them to have income while preparing for their new arrival.
Direct Sales
George Doyle/Stockbyte/Getty Images
Direct sales companies allow participants to earn money by selling their products and sponsoring and training new consultants. The only requirement to join most direct sales organizations entails the purchase of a starter kit, although some companies encourage their sales force to stock inventory of their products.
The abundance of legitimate direct sales companies allows people to find a product or service particularly appeals to them. For example, future mothers might find Discovery Toys, manufacturers of educational toys, of interest.
Those interested in joining a direct sales company should visit the Direct Selling Association's website, DSA.org. This site has information on legitimate organizations and helps steer visitors away from potential frauds.
Customer Service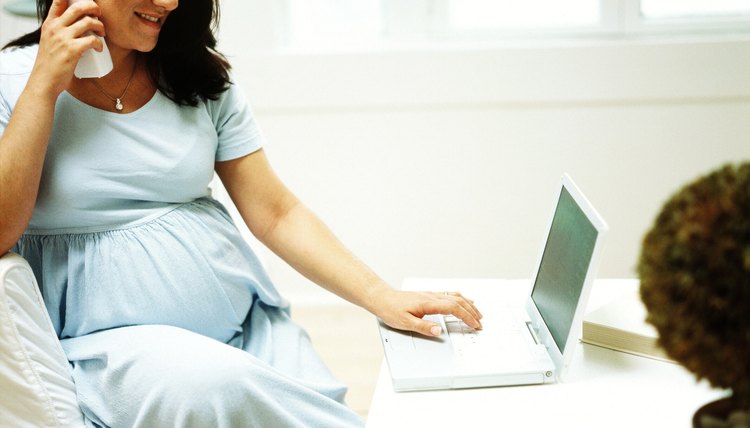 Stockbyte/Stockbyte/Getty Images
Disenfranchised with outsourcing customer service jobs, many companies now hire at-home workers for these positions. Companies such as 1-800-Flowers seek people to work from home, helping their clients place orders and handle issues. Presenting very little demands physically makes this ideal work for pregnant women.
Virtual Assistants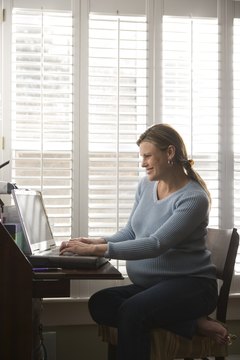 Comstock Images/Comstock/Getty Images
Those with excellent typing and computer skills could earn an income at home working as a virtual assistant. Some virtual assistants find work on their own, marketing to local businesses or advertising on classified ad websites. Others bid on jobs on sites such as Guru.com. Guru allows freelance workers to bid on jobs posted by potential employers seeking help for projects.
Data Entry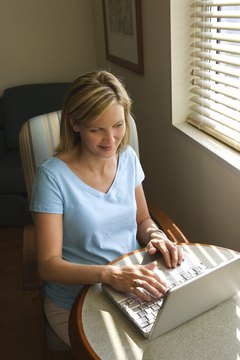 Jupiterimages/Comstock/Getty Images
Online data entry operators work typing information into forms. Companies such as KeyForCash.com hires data entry staff and bases pay rates on speed and quantity of work completed.
Online Tutors
Jupiterimages/Brand X Pictures/Getty Images
Online Tutors help students around the world with homework or other school assignments. Tutors for all age groups, from kindergarten through college, find work helping students online when they need assistance. Experts specialize in a variety of subjects including English, math and history.
Another group utilizing online tutors includes students needing assistance in English when preparing to attend an American university commonly utilize these services.
Student needing help preparing for tests, such as GEDs or SATs, benefit from the service.
Websites such as Tutor.com connect tutors with students after approving their application to the company.
References
Resources
Writer Bio
Based in Connecticut, Vicki Holmes has been writing for 15 years and has a B.A. in English from The King's College. Drawing on her 20 years as a software trainer, she has authored ten software training manuals. Holmes, as an advocate/patient for sufferers of autoimmune illnesses, frequently writes about health-related topics.
Photo Credits
George Doyle/Stockbyte/Getty Images