A receptionist is the first person a client sees or hears when visiting or calling a company. The receptionist's ability to make a good first impression can create and maintain business. She must be able to speak intelligently about the company and what it represents. A receptionist must display loyalty to the company, be able to multitask, have a variety of computer skills, and be an excellent communicator. The health of the company may depend on it.
Communication Skills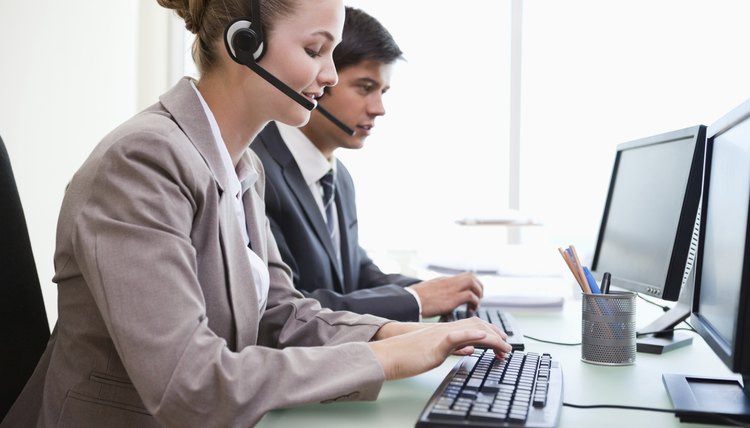 4774344sean/iStock/Getty Images
A receptionist must a good communicator. Since he will be speaking on the phone and meeting with people numerous times throughout the day, he must be able to follow conversations and have his point understood. He must also be efficient at relaying messages to others in the company. An outgoing personality is a plus, and it's necessary to have a good memory for faces and names. He should be able to develop a rapport with clients and remember any personal information they have told him.
Multitasking
delusi/iStock/Getty Images
The reception desk can become quite busy and a good receptionist must be able to handle many things at once. A client might be at the reception area at the same time as the phone is ringing. A mail carrier might simultaneously come in with a package. The efficient receptionist will be able to handle it all without anyone feeling slighted. She must be courteous even under pressure and be able to handle all types of personalities. Her desk should be organized so that she can run the front office efficiently.
Maturity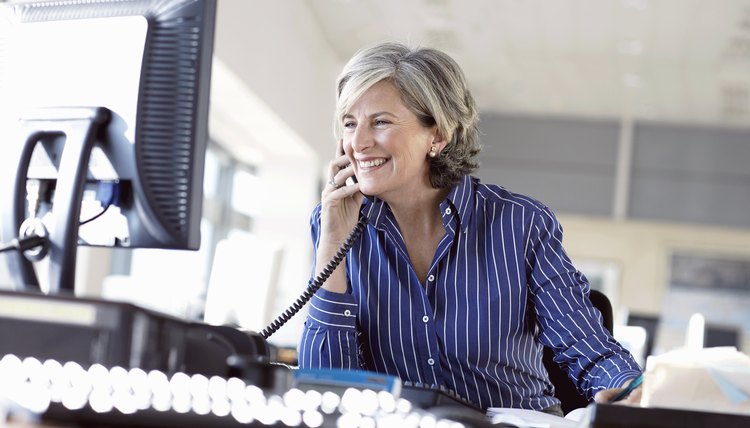 Getty Images/Photodisc/Getty Images
A receptionist will hear personal and confidential information about his co-workers and the company's clients. He must be respectful of all information he receives, whether it is a piece of mail, a visitor or a phone call. He must be discreet and tactful and not show surprise when faced with intimate or shocking information. Loyalty is of utmost importance in a receptionist. Clients must know that their private information is secure and will not go past the reception desk. Under no circumstances should a receptionist ever tell anyone else any personal information to which he is privy.
Knowledge of Computers and Office Equipment
Digital Vision./Photodisc/Getty Images
Computer literacy is an important aspect of the receptionist's job. She is responsible for letters, memos and possibly accounting, so it's essential to be proficient in word processing software and spreadsheet programs. She will be involved in receiving and sending email and searching on the Internet. She must be able to fax documents, either by machine or by computer, use a mail machine and a copier. The phone system might have several different lines and she will need to feel confident receiving and transferring phone calls.
Doing Whatever Is Needed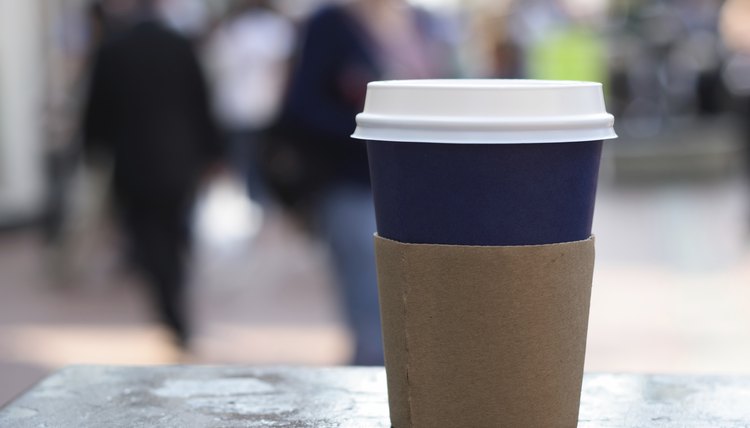 elena moiseeva/iStock/Getty Images
Receptionists must not take exception to occasionally doing tasks that are not in their specific job description. They should not feel that these tasks are below them or feel demeaned if asked to perform them. These might include getting coffee or ordering lunch for clients who are in a meeting. It might even be picking up the boss's dry cleaning, watching his child for an hour in the office, or taking someone to the airport. Sometimes these types of duties are essential to a smoothly running office.