The ASVAB, officially known as the Armed Services Vocational Aptitude Battery, is a 10-stage test. Each stage covers a single subject, such as arithmetic, electronics, general science and tool knowledge. The ASVAB does not test how smart you are, but rather it identifies your compatibility with a range of military jobs. The Army and Marines generally require recruits to achieve a minimum score of 31 on the ASVAB.
Obtain ASVAB practice exams. ASVAB practice exams are available on the Internet, from your school career center, or from bookstores.
Take ASVAB practice exams at your own pace. Complete a few ASVAB practice exams so you become familiar with the style of the questions and the subjects covered. At this stage, do not research any questions, but rather answer them to the best of your ability before moving on to the next question.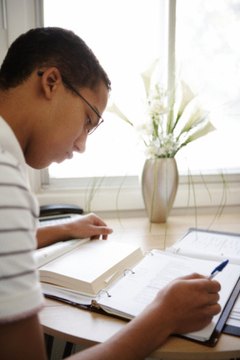 Jupiterimages/Photos.com/Getty Images
Evaluate your wrong answers. Review the tests and study the questions you got wrong. Determine why you got the answer wrong. Sometimes it is simply because you did not know the answer. But you may have misread the question or did not choose the best answer when two or more answers appeared feasible.
Determine your strong and weak topics. The ASVAB covers a wide range of topics, so it may be difficult to excel in them all. After taking the initial practice tests, you should identify what subjects you do best in and which ones are challenging. Focus your study to maximize your score in your strongest topics and to improve your weaker areas.
Focus on core subjects. Four of the 10 subject areas are of special importance: Arithmetic Reasoning, Word Knowledge, Paragraph Comprehension and Mathematics Knowledge. These four subjects determine your Armed Forces Qualifying Test (AFQT) score, which is a separate score apart from the overall ASVAB score. Your AFQT may determine whether you're qualified to enlist in the U.S. military.
Practice for speed. Now that you have a taste for the exams and have studied the topics, begin taking timed exams. Follow the practice exam instructions with regard to the exact time requirements. A full ASVAB practice exam will usually take an hour and a half.
Continue to review your wrong answers. Check each wrong answer and determine why you got it wrong. Study the subject or make changes to your exam-taking habits to avoid making the same mistakes again.
Tip
Avoid excessive distractions while taking a practice exam, especially when you are timing yourself. However,do not become too reliant on a perfectly silent testing environment, because you may experience distractions at the ASVAB testing center.
Remember that the ASVAB is an aptitude test, and it will help determine what military jobs suit your knowledge and ability.