Every year, there are thousands of injuries related to forklifts that occur in the workplace. OSHA has determined that the majority of forklift accidents and property damage is due to insufficient or inadequate training, lax enforcement of safety rules and a lack of safe operating procedures. It is a violation of federal law for anyone to operate a forklift without proper training and certification, and you must be at least 18. In 1998, OSHA adopted a new standard on forklift training. There is a free online OSHA video, "Forklift Operation and Safety Course Menu," which, while not sufficient for a license, will provide a solid foundation for further training.
Common Forklift Accidents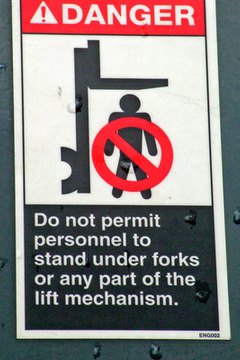 forklift safety image by Greg Pickens from <a href='http://www.fotolia.com'>Fotolia.com</a>
Forklifts are the leading cause of industrial workplace deaths, with approximately 94,000 employees injured annually. Accidents commonly occur when lifts are driven off loading docks, fall between an unsecured trailer and loading dock, or tip over when improperly loaded. Employees can be hit or fall from an elevated pallet or fork lift tines. Forklifts damage overhead pipes, sprinklers, racks, walls and other machinery.
OSHA Training Requirements
forklift and pallets image by timur1970 from <a href='http://www.fotolia.com'>Fotolia.com</a>
OSHA Standard 29 CFR 1910.178 outlines the forklift training program, which must be under the direct supervision of someone who has the knowledge, training and experience to train operators and evaluate competence. Training consists of classroom time, including videos, practical training, and demonstrations plus performance evaluation. There are two major topics that must be addressed: truck-related and operating limitations. The employer must certify employee training and keep appropriate records.
Course Content of Forklift Video
wheel of forklift image by timur1970 from <a href='http://www.fotolia.com'>Fotolia.com</a>
The free OSHA online video is suitable for classroom preparation and contains information on the types of lift trucks, their operation, safety, refueling and recharging and maintenance. It informs students that they will need hands-on skills training and, if they qualify at the end of the program, will receive a certificate from their employer. This lets everyone know that they cannot learn to drive a forklift just by watching one video. There are complete illustrations showing the operation of the truck, how to read the various gauges and how to use the hydraulic lift. Safety precautions are emphasized. After watching this video, a student would be much more familiar with the operation of a forklift the first time he took the controls.
How Students Move Through the Course
forklift carrying fruit cases image by timur1970 from <a href='http://www.fotolia.com'>Fotolia.com</a>
The video explains 29 CFR 1910.178 and its training requirements. The student progresses through several short modules, each of which is followed by a brief quiz. If his answers are correct, he moves to the next section. If the answers are wrong, he must return to the previous module, reread the material and pass the quiz before moving ahead. After all modules are completed, a 25-question test is given.
When Is A Refresher Course Mandatory?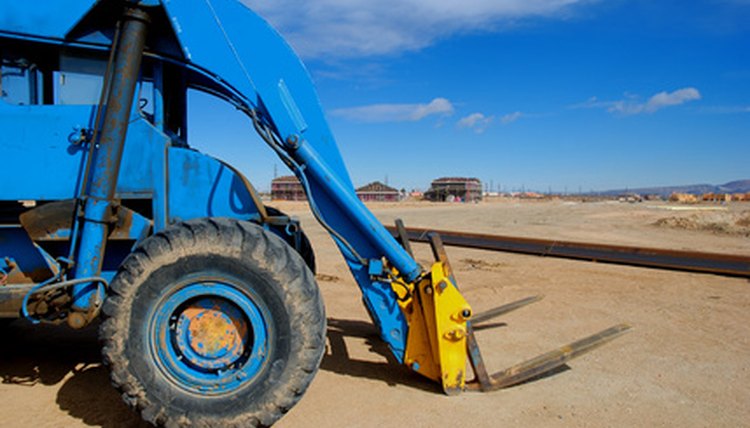 forklift image by Byron Moore from <a href='http://www.fotolia.com'>Fotolia.com</a>
A refresher course must be completed if the operator has been in an accident or a "near miss." Training is required if the operator is not driving the forklift safely or has received an unfavorable evaluation. If the operator is assigned a different type of truck or there are changes in workplace affecting safe operation, a refresher course must be completed and the employer must certify the training and keep a record.