A bellman is employed in a hotel to assist guests with their luggage and to show guests to their room. Also referred to as bellhops, bellmen must ensure that guests have a pleasant stay. State University notes that although a bellman's duties are similar to porters, bellmen are usually found working inside the hotel as opposed to outside, where porters usually work.
Education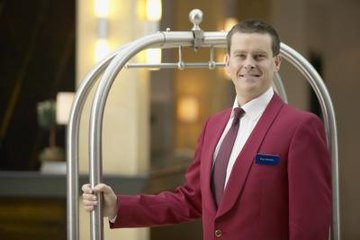 There are no formal educational requirements to become a hotel bellman. State University reports that although employers generally look for those with a high school diploma, good people skills and physical strength are more important than academic qualifications. Newly hired bellman often receive on-the-job training that can last for up to one month, according to State University. The Bureau of Labor Statistics reports that many of those in the industry have little in terms of previous work experience.
Skills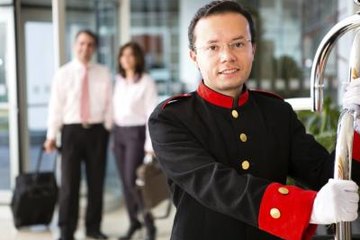 Those working in the hospitality industry should have a smart personal appearance and good customer service skills. The BLS report hotel workers must have a pleasant demeanor during stressful periods or when dealing with an impatient or irate guest. A bellman should have a positive attitude and helpful manner. The ability to get along well with others is important as much of the day is spent interacting with customers and fellow staff members.
Responsibilities
A job description on the website for Overseas Working Holidays lists typical daily tasks as checking keys are ready, picking up luggage, updating master keys, assisting the front desk during busy periods and answering guest questions. Bellmen may also be assigned additional duties by the reservations manager. Overseas Working Holidays notes that bellmen are often required to assist additional departments within the hotel when needed such as housekeeping.
Considerations
The BLS report that because hotels are open around the clock, the hours of those working in the industry can be long or unsociable. Employment and wages in the industry are predicted to grow by 5 percent from 2008 to 2018, according to the BLS. Jobs in the industry are often part time or seasonal and therefore attract young workers with little or no previous work experience. Many jobs become available each year because of high staff turnover.
Salary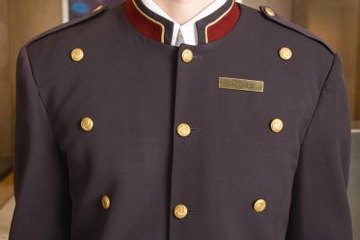 The salary of a bellman varies depending on level of experience, location and hotel. According to Indeed.com, the average annual salary of a bellman in July 2010 was $19,000.