Growth Trends for Related Jobs
Technology has made it possible for stay-at-home moms to work from home. The best jobs for stay-at-home moms require a small investment, provide the highest earning opportunities and are flexible. These jobs include medical or general transcription, virtual assistant, freelance writing, telemarketing and customer service. Qualified moms will find that any of these jobs offer many opportunities that are both financially and professionally rewarding.
Types
George Doyle/Stockbyte/Getty Images
Stay-at-home moms work for a variety of employers. Both medical and general transcription companies hire experienced transcribers, and some may also offer entry-level positions to graduates of accredited transcription schools. Small business owners, lawyers and other professionals hire experienced secretaries as virtual assistants. Online publishing and website companies hire freelance writers and experienced editors. Telemarketing companies pay experienced sales and marketing professionals to sell their client's products or services. Virtual calling centers route incoming calls to telecommuting customer service representatives.
Function
Comstock Images/Comstock/Getty Images
Qualified moms handle a variety of tasks working from home. Medical and general transcribers listen to audio files recorded by medical professionals, law enforcement officials and professors. They use transcription equipment and software to produce a written report of the recordings.
Virtual assistants complete administrative tasks from their home office. Tasks may include data entry, typing reports and scheduling appointments.
Freelance writers create articles that are featured on blogs and websites and by online publishers. Most freelance writing jobs are for technical, content and essay writers. Experienced editors are also needed to review articles and to proofread.
Telemarketers call prospective customers and sell services or products. They are provided a script and a list of customers to contact. Most earn an hourly wage in addition to a sales commission.
Customer service representatives assist customers with technical issues, order processing, billing questions and scheduling service appointments. Most representatives are hired as employees and must have previous customer service experience.
Benefits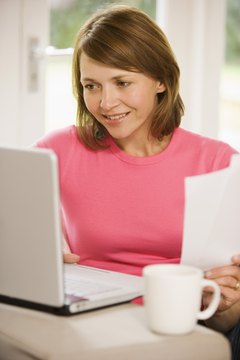 BananaStock/BananaStock/Getty Images
Transcription and writing jobs offer stay-at-home moms the opportunity to choose when they work and how much work they do. They can also negotiate how much they are paid. Most virtual assistants, telemarketing and customer service professionals are hired as employees and are eligible to receive company benefits. They may also have rotating schedules with the opportunity to work in the evening or on weekends.
Considerations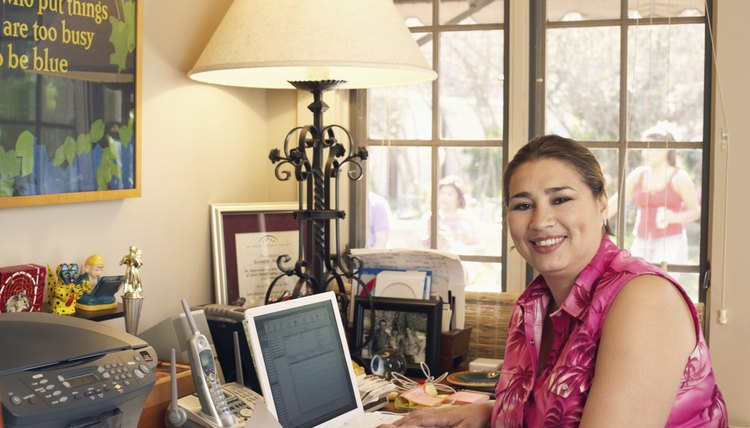 Creatas/Creatas/Getty Images
Finding a legitimate work-at-home opportunity is time consuming and difficult. Every potential employer must be researched carefully, and most positions require applicants to submit samples of their work or pass employment tests. Freelancers and independent contractors are also required to locate new clients and are responsible for their own bookkeeping.
Stay-at-home moms will also need to have a quiet home office equipped with a fax machine, phone line, personal computer, high-speed Internet connection and word processing software.
Warning
Creatas Images/Creatas/Getty Images
Be aware of possible scams while searching for work. The most common scam involves having to pay some type of fee to get information about a job or to get hired. In some cases, investing in office equipment or training materials may be required, but it is always a good idea to research a company before paying any fees. Other scams may involve companies requesting private information such as bank account numbers, or advertisements for jobs that involve depositing or cashing checks. Never assume that a company is legitimate until you have done your research.
References
Resources
Writer Bio
Victoria Robles graduated from Kaplan University with a degree in Paralegal Studies in 2007. She also earned her associate degree in business from Champlain College in 2002. Robles is a former job coach with three years of experience in editing real estate marketing materials and writing resumes for job seekers at her local workforce center.
Photo Credits
Photodisc/Photodisc/Getty Images