Growth Trends for Related Jobs
With adult and childhood obesity at its highest levels in years, the role of qualified and knowledgeable fitness professionals is more important than ever. Over the past 20 years, the number of certified personal trainers continues to rise to meet the demand of the health and fitness industry.
Receiving certification as a personal trainer is necessary to work in almost any fitness, wellness or health care facility. Although helpful, a degree in exercise science or physiology is not needed as a prerequisite for most certifications.
Read more: Duties & Responsibilities of Fitness Personal Trainer
Get CPR/AED Certified
Most personal training certification organizations require no previous experience as a personal trainer in order to take their certification exam. To register for an exam, you must be at least 18 years old and have your Cardio Pulmonary Resuscitation/Automated External Defibrillation, or CPR/AED, certification.
The American Heart Association and the American Red Cross offer classes in CPR/AED, as well as local hospitals and community centers. Be sure to review any other prerequisites that may be needed before applying for the exam.
Read more: American Heart Association CPR Training & Tests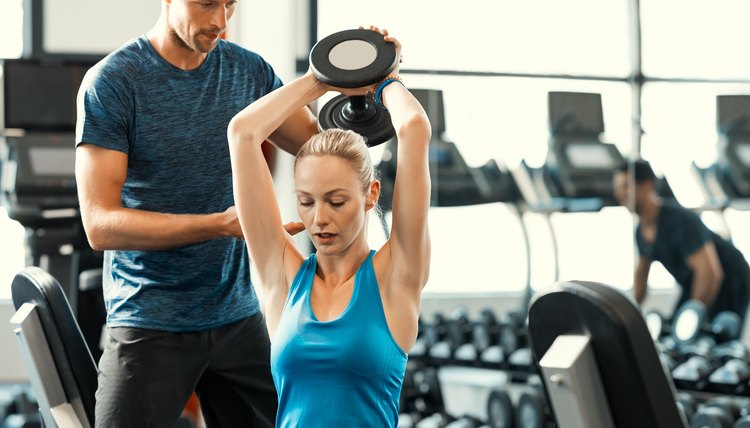 Choosing a Personal Trainer Certification
Several organizations offer certification training and testing for the aspiring personal trainer. Some of the more recognized organizations are American College of Sports Medicine, American Council on Exercise, National Health Educators and National Academy of Sports Medicine. These organizations can supply preparatory testing materials, testing sites and the certification exam for one inclusive price or they can be purchased separately. Testing is offered several times a year either on-site or online.
Classrooom Preparation Programs
Many people employ self-study methods to prepare for the certification exam. Or you may prefer a classroom or practical setting to get you ready for the exam. Exam preparation programs offered by organizations give you the theoretical and practical classroom experience of a personal trainer. Exercise Etc. and World Instructor Training School offer classroom prep classroom programs to ensure your readiness for the exam, as well as some of the certification organizations.
Continuing Education Credits
Once you have successfully completed your exam, you will need continuing education credits to keep your certification current. All certification organizations offer ongoing workshops, online and correspondence courses for credit toward your personal training certification. Keeping your certification current will show that you keep up-to-date on fitness trends and education. If your continuing education credits are not met by a required time, your certification will expire and you may need to take the exam again.