If you already have a Bachelor's degree and wish to move into a teaching position, you may be surprised at how easy that transition can be. However, before committing to that transition, you need to do a little research. Some institutions require you to earn teaching credentials, or a certification, before applying.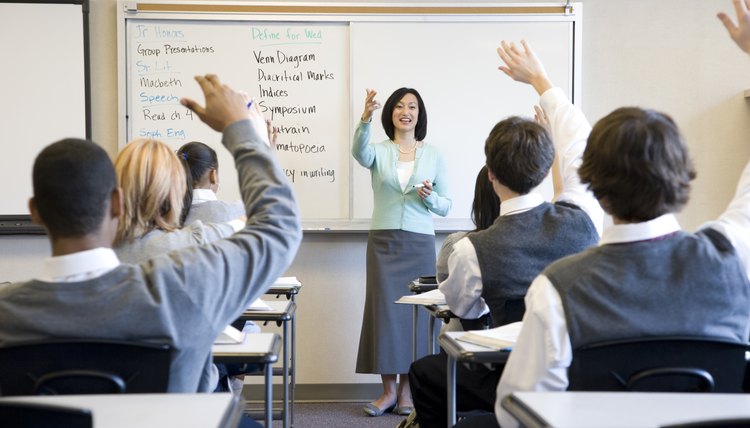 Jetta Productions/Digital Vision/Getty Images
Think about the type of educational institution you want to work for.
Private schools do not require teachers to have a teaching degree, nor do they require teachers to hold a license. Having a bachelor's degree in your field, is enough to teach in a private school. Tutoring centers, and other privately funded institutes, will also work with you.
Public schools require elementary teachers to hold a BA of Ed. However, high school teachers do not necessarily need this credential. A degree in science, math, literature or other area, may be acceptable. However, you must obtain a teaching license, before you can begin teaching.This is considered an alternate route.
Michael Blann/Digital Vision/Getty Images
Plan a course of action. If you are pursuing a job in a privately funded program, then find community programs that will get you some teaching experience. Volunteer tutoring, or helping out with your church's youth programs, will give you some experience.
If you want to pursue a public school job, then you need to begin finding your state's requirements for obtaining an alternate route teaching certificate.
Visit your state government's website and search the education section.
AndreyPopov/iStock/Getty Images
Give your resume to a friend and have him look it over. You should include the degree earned, any special skills and talents you have, plus the experience you've had teaching. If you want to go for a public school position, begin your coursework, or start studying for your exam. Most colleges offer practice tests before you take the teaching certification exam.
Apply for various teaching positions in your area. A complete resume that lists your educational background and experience should land you an interview.