Growth Trends for Related Jobs
Brick masonry dates back thousands of years and is a craft always in demand. Working with bricks, natural stone and blocks of concrete, brick masons create a wide variety of structures from walkways and fences to homes and high rise buildings. Their pay can vary by state and job.
Training
Brick masons can begin their careers through formal education at a community or technical college or in an apprenticeship program, often sponsored by coalitions of business, unions and government.
Skills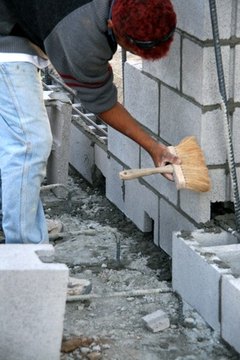 bricklayer,mason image by Greg Pickens from Fotolia.com
Whether learning in a college or an apprenticeship, brick masons need to know math and geometry, how to read blueprints, sketching and layout work along with other necessary skills. Working outdoors the majority of the time, they must work in varying weather conditions and be able to lift and carry heavy materials.
Wages
According to the U.S. Bureau of Labor Statistics, as of 2008, the median hourly wage for a brick mason is just over $18. Wages for the 50 percent in the middle ranged from just over $14 an hour to almost $24 an hour. The 10 percent at the bottom of the scale earned less than $12 an hour and the 10 percent at the top earned almost $32 an hour. Nationally, annual salary for brick masons is $33,500 to $49,700.
References
Resources
Writer Bio
Douglas Hawk has been freelance writing since 1983. He has had articles appear in numerous Colorado newspapers and in a wide variety of national magazines. Hawk has sold three novels and one short story, which won an award from the Colorado Authors' League. He holds a Bachelor of Arts from Adams State College and master's degree in mass communications from the University of Denver.