Music producers and engineers perform many of the same duties in sound recording. However, as a producer, you take more responsibility for the quality of the track and provide direction for the engineer to follow. Your desired level of control over the recording process should determine which path you choose to pursue.
The Producer
Music producers control the direction of an audio recording. The goal of the producer is to ensure that the final product is of the highest quality possible. This work begins before you even enter the recording studio, as you secure backup vocalists and instrumentalists. The producer may choose to participate in the engineering of the music, using a soundboard and recording equipment. However, he doesn't always engage in the engineering. He may choose to hire a sound engineer and supervise the process instead. The producer's responsibility also includes working with singers or musicians during the recording session to ensure the best-quality performance. As a music producer, you need to have a good ear for music in order to direct the participants and correct any audio problems.
The Engineer
The audio engineer focuses on the technical issues of a recording and is not responsible for the entire product as a whole. Your responsibilities start inside the recoding studio. You make sure that all recording equipment is set up correctly and in good working order. You also work on the audio boards while the instrumentalists and vocalists perform inside the recording booth. The recording engineer provides technical assistance to the performers to help them get the best possible sound. After the recording is made, the music engineer may work on manipulating the sound for better quality.
The Similarities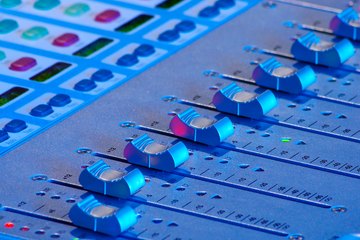 Music producers and engineers perform many similar responsibilities. Both parties are knowledgeable about soundboards and the inner workings of a recording studio. They both may work with the equipment in the studio during the vocalist's performance and afterward to improve the sound quality. The producer and engineer also provide technical expertise to the vocalist or musician for making the recording sound better. Engineers often offer their services to performers as producers and vice versa. For a smaller budget, you may work solely as an engineer with fewer responsibilities. For a client with a larger budget, you may contract yourself as the producer, increasing the services you provide.
Engineer Vs. Producer
The major difference between the producer and the engineer is that the producer takes on more responsibility for the recording. The engineer's responsibility is during and directly after the recording session. As the engineer, you work at the direction of the producer, specifically carrying out instructions. The producer's role is more creative, as you develop the direction of the recording. As the producer, you make the final call about sound issues, and the success of the final product lies with you. In comparison, the engineer is not ultimately responsible because many aspects of the recording are beyond the engineer's control.