Growth Trends for Related Jobs
Biomedical engineering involves the development of procedures and equipment that help to resolve various medical problems. An individual can specialize in an area within biomedical engineering, such as medical imaging or biomechanics. According to the United States Bureau of Labor Statistics, this area is expected to have a job growth rate of 72 percent by 2018. This makes it an excellent career choice both in job security and financial aspects.
Clinical Engineer
Clinical engineers are in charge of overseeing delivery systems for a health care establishment such as a hospital, college or a clinic. They may do tasks such as troubleshooting health care equipment, training staff on how to use and care for equipment, and installing various devices in the facility. They assess accidents to see where devices may have failed and find solutions to the problem. These positions will be in demand due to the desire of many medical facilities to make operations run more efficiently and reduce costs.
Diagnostic Medical Sonographer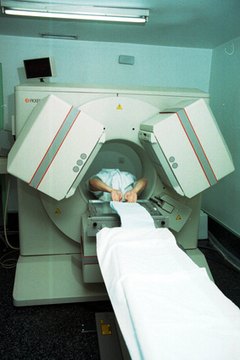 medicina_nuclear-15 image by Paco Ayala from Fotolia.com
As a diagnostic medical sonographer, the individual utilizes equipment that forms images of the inside of a person's body using sound waves. The sonographer monitors the process as the image is formed, making sure that the images are clear enough for diagnosis of any problems. They do routine maintenance on the equipment, maintain records on various patients and do any necessary device adjustments. They can receive training either through a bachelor's degree program or a two year degree program at a technical or community college. The coursework involves anatomy, physics, medical ethics and care of patients. Individuals can advance and attain higher pay by getting training in various disciplines within the field, such as the nervous system or gynecology. They can also increase their chances of advancement by getting certification in more than one area, such as a registered diagnostic cardiac sonographer.
Biomedical Engineer
The biomedical engineer helps to develop devices such as monitoring equipment for surgery and artificial limbs for patients. They also help to develop procedures and take part in health related research. Some of the other devices they create include artificial organs and lasers that are used in delicate surgical procedures. To enter this field, the individual will need a bachelor's degree in biomedical engineering and may have to pursue higher education to be eligible for many positions. Further graduate study and training can help the individual to be more competitive in the job market.
2016 Salary Information for Nuclear Engineers
Nuclear engineers earned a median annual salary of $102,220 in 2016, according to the U.S. Bureau of Labor Statistics. On the low end, nuclear engineers earned a 25th percentile salary of $82,770, meaning 75 percent earned more than this amount. The 75th percentile salary is $124,420, meaning 25 percent earn more. In 2016, 17,700 people were employed in the U.S. as nuclear engineers.
Number of Jobs for Biomedical Engineers (by year)

| Year | Number of Jobs |
| --- | --- |
| 2013 | 21,000 |
| 2014 | 22,100 |
| 2015 | 22,050 |
| 2016 | 21,300 |
| 2017 | 21,220 |
References
Writer Bio
Erin Steeley is a full-time writer and freelancer who uses her background in education, sign language and art to create quality articles. She published her first book, "The Soldier and the Storyteller," in 2006. Steeley has a Bachelor of Arts degree in general studies from Pittsburgh State University.