A breakfast cook may cook everything from baked beans to french toast, but there are some general expectations of a breakfast cook that apply to all breakfast cooking jobs. Some of the skills and experience necessary to secure such a job will vary by employer.
Duties
A breakfast cook must be able to work fast and under pressure. A breakfast cook may be required to cook hundreds of meals on a busy morning, and many jobs require kitchen maintenance during slow periods of business. The morning will generally start very early--5 am is a common start time, although this depends on the kitchen. Shifts are usually 8 hours but many small, independently-owned restaurants may require longer hours.
Split Duties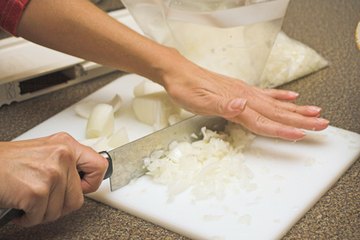 Depending on the restaurant, there may be preparation cooks and kitchen cooks with separate duties. A prep cook may prepare dishes such as fruit salad or bake biscuits while the kitchen cooks cook to order. Both types of cooks generally come in early to get a head start on preparing foods for faster service during business hours. This type of preparation cooking may involve partially cooking bacon, cracking eggs for scrambled eggs, making sauces, and many other duties.
Skills
Many breakfast cooking jobs require English-speaking employees. All jobs will require knowledge of food safety and many jobs will require a food handlers safety certificate. These certificates vary by state, so check your local state or county website for food safety classes. One example of a list of approved training centers can be found at the County of Los Angeles Environmental Health website.
Conditions.
A breakfast cook must be able to stand for long periods of time--8 hours or more of standing with few breaks may be required. The kitchen cook stands next to a hot grill all day, so ability to withstand extreme heat is necessary. Even in a well air conditioned restaurant, it is impossible to keep the kitchen cool with all the heating elements going. The cook is subject to possible burns from splattering hot grease, boiling water from poached egg pans, and hot food. The cook will be in frequent contact with the waiters/waitresses, so working well with others is mandatory.
Benefits
A full time breakfast cook may be eligible for health insurance at a reduced cost. There may also be retirement plans and accident insurance, although many breakfast cook jobs offer only an hourly wage. A non-high school graduate will often be able to secure a job as a cook and the pay is dependent on experience, so education may not be an important factor.