Growth Trends for Related Jobs
Hospitals provide more than just an income to their employees. They also bring the reward of reaching out and helping others who are suffering. There were over 5,000 registered U.S. hospitals, which filled over 36 million beds with patients in 2012, according to the American Hospital Association. Hospitals seek a diverse set of skills from their employees to meet the needs of their patients. Opportunities exist for individuals with a variety of backgrounds.
Business Side of Hospital Care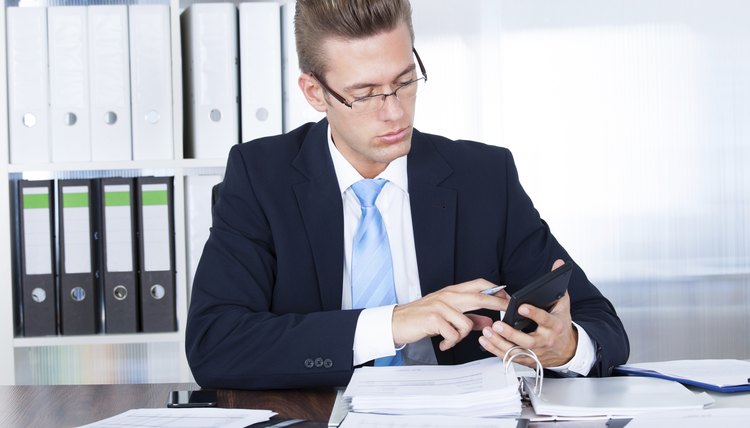 AndreyPopov/iStock/Getty Images
When you're worried about your loved one, it's easy to forget that hospitals need to manage their organization from a business, or administrative, perspective while caring for patients. These employees keep the facility running and work in accounting, human resources, information technology, patient services and senior management. Accountants need to understand regulatory requirements affecting hospital care and fees. They need to understand how insurance billing works to receive payments for services provided. Human resource employees need to understand required education levels for various positions as well as compensation rates. Human resource employees also work with department supervisors to recruit and terminate employees. Information technology employees oversee the computer systems to ensure that patient information is readily available. Patient service representatives interact with patients to ensure that they receive the appropriate treatment and understand what their insurance will pay and what their share will cost. Senior management oversees the operation and plans the strategic direction for the facility.
Keeping Things Clean and Safe
Lisa McDonald/iStock/Getty Images
As sick or injured people come into the hospital, they also bring their germs and bacteria, which can spread to healthy individuals. Maintenance employees fill a primary role to minimize any potential spread of germs between patients. Through regular maintenance and janitorial services, include mopping and disinfecting patient rooms, laundering all linens and patient gowns and disposing of hazardous waste as well as garbage, maintenance employees play a vital role within a hospital.
Physicians Treat the Body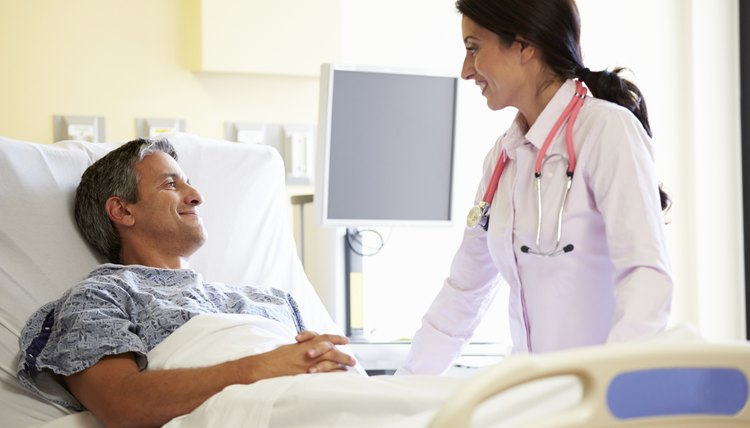 monkeybusinessimages/iStock/Getty Images
Physicians often come to mind first when people think of hospital jobs. Physicians provide the highest level of care required by the patient. This includes diagnosing and treating patients in the emergency room and providing outpatient and inpatient care. During inpatient care, the physician provides care for patients who require admittance overnight. That care may range from diagnosis to surgery to recovery or end of life care. Outpatient care may range from minor surgeries to routine procedures.
Nurses Treat the Patient
michaeljung/iStock/Getty Images
Nurses experience more patient contact than any other hospital employee and often determine whether the patient has a positive or negative experience. They talk with the patients, observe their physical condition and administer treatments. As they interact with the patients, they monitor their vital signs and alert the physician to any changes. Nurses are required to know how to use the equipment in each patient's room as well as assist the physician during a range of procedures.
Pharmacists: Drug Suppliers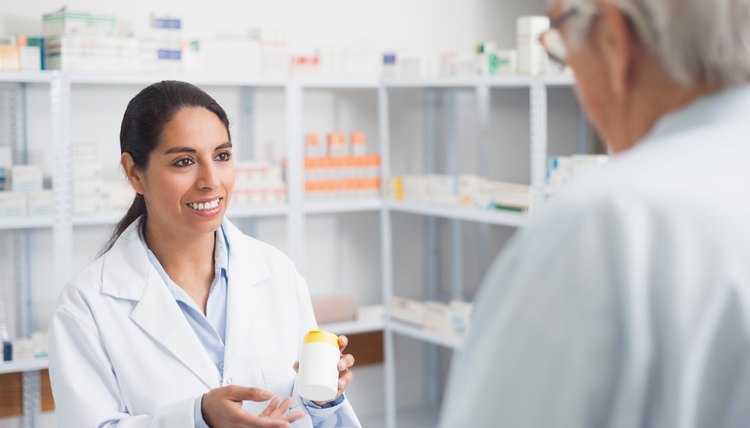 Wavebreakmedia Ltd/Wavebreak Media/Getty Images
Pharmacists represent the gatekeepers to all of the medications used or dispensed in the hospital. Patients in a hospital require a diverse mix of drugs. Pharmacists manage the inventory and distribution of these drugs. This includes maintaining an adequate level of each drug on hand and packaging the drugs to be administered. Pharmacists also review new drugs being prescribed, compare these drugs to medicine the patient already takes and identify any potential risks from these combinations.