Growth Trends for Related Jobs
A diamond jewelry buyer shops for exquisite diamond baubles and costume jewelry for a living. Although the job of a jewelry buyer appears to be glamorous, hunting, bargaining and examining jewelry for its current and future value is tedious and taxing.
If you are interested in becoming a diamond jewelry buyer, you must learn how to balance your ability to appraise the value of diamond jewelry with your ability to negotiate a fair price and facilitate the exchange of raw diamonds from the cutter to the jewelry store.
Get training as a diamond jewelry buyer. Apprentice with an experienced diamond jewelry buyer to recognize basic gemstone terms like: color, cut, weight and clarity, before becoming a jewelry buyer. A seasoned diamond buyer will teach you how to asses a raw gemstone to determine its present and future value.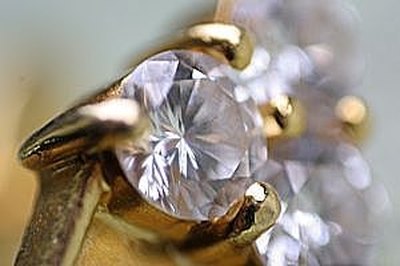 Learn how to determine a diamond's quality. A diamond jewelry buyer should master how to recognize authentic diamonds from fakes. Study techniques to recognize authentic stones from lab-created diamonds. Whether you use a jewelry tester or loupe, a jewelry buyer should recognize antique jewelry from period pieces and costume reproductions.
Become an expert negotiator. A diamond jewelry buyer must negotiate well with store owners, diamond cutters and merchants to make a substantial profit. A diamond buyer may examine numerous stone or buy uncut or raw gems in bulk to find the one precious gemstone suitable for resale.
Forecast diamond jewelry trends and the diamond sales cycle.Skilled diamond jewelry buyers should anticipate consumer needs for special occasions, wedding celebrations,and holiday shopping seasons. A department store diamond jewelry buyer is adept in managing merchandise-pricing cycles and using inventory software to track jewelry sales.
Obtain certification.The Gemological Institute of America (GIA) administers an accredited program to train jewelry professionals. From evaluating gemstone quality to recognizing trends in diamond jewelry, the GIA's Accredited Jewelry Professional Program gives jewelry buyers insight into various aspects of the jewelry selling and buying process and changes in the marketplace.
Tip
There are no accredited college programs for aspiring diamond jewelry buyers. The best method to become a buyer of gemstones is through an apprenticeship, taking courses on gemology or working with diamond cutters. It's important to learn the diamond buying process from the time the diamond is harvested from mines in Africa, Canada and Australia to when local jewelers buy the stones in bulk. A jewelry buyer for a boutique jewelry store or even a large-scale department store must purchase diamonds for the sale floor months in advance.
http://www.sxc.hu/greekgod, istockphoto.com - diamond jewelry buyer