Growth Trends for Related Jobs
The Marines operate as the primary deployment force of the United States. Living by the motto "Semper Fidelis" (always faithful), the Marines are trained to be prepared for immediate action on land, on sea, or in the air. Individually, Marines endeavor to present the qualities of honor, courage, and commitment at home and abroad.
Function
The United States Marine Corps exists to function in combat and defense in the interests of the United States as ordered by the Commander in Chief (this duty falls to the President of the United States). Orders for official military action must be sanctioned by Congress.
Protect Embassies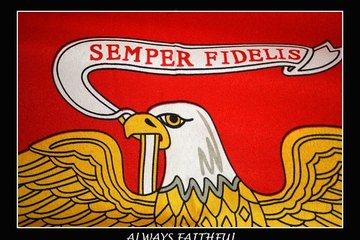 Image by Flickr.com, courtesy of Randy
Marines are sometimes ordered to protect embassies and associated personnel throughout the world, particularly in areas of growing conflict.
Engage Enemy
Image by Flickr.com, courtesy of Randy
In combat, the general orders for a Marine are to engage the enemy, secure the field of battle for approaching allies, and move on to complete the next objective.
Humanitarian Endeavors
Along with the other branches of the armed forces, Marines engage in humanitarian missions. Recent missions include helping to end ethnic cleansing in Bosnia and Kosovo. At home, Marines often perform charitable works both individually and as an organization. The Marine Corps organizes Toys for Tots, an organization that collects and distributes toys to children in need during the holiday season.
Represent United States
Image by Flickr.com, courtesy of Beverly
Marines serve as representatives of the United States around the world, whether providing humanitarian aid or engaging in direct combat with a threatening oppositional force.
References
Resources
Photo Credits
mariusz_prusaczyk/iStock/GettyImages