Growth Trends for Related Jobs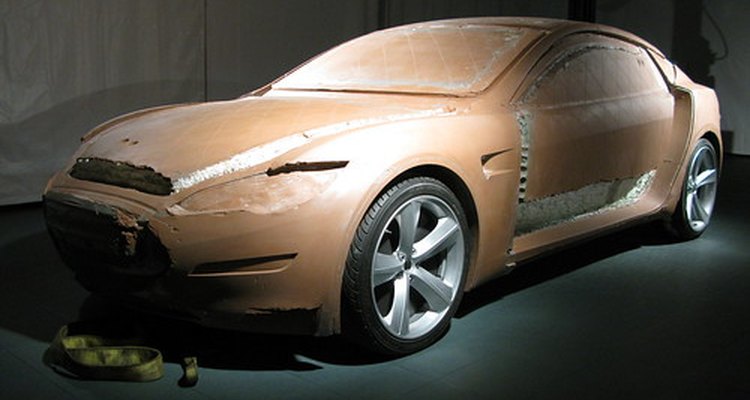 Image by Flickr.com, courtesy of Steve Jurvetson
A car designer illustrates and uses computer-assisted design to introduce models of cars to compete in the auto industry market. Car design careers include specializing in automotive design or in designing replacement parts. Obtaining a career in car design begins in high school with taking certain courses and getting good grades while building a portfolio of design work. Both the grades and portfolio are important in getting into a design school where openings are usually limited due to the many applicants applying each year and the small amount of institutions that offer the program.
Duties
Car designers work directly with the departments of testing, engineering and production in car manufacturing companies. They draft drawings of car components, systems and assemblies through sketching, prototypes and models. They collaborate with automotive engineers and determine the factors affecting design proposals from understanding the limitations of manufacturing and from models of previous cars. Car designers development their designs for cars that reflect their company's image and that fit the needs of the consumer.
Education
A bachelor's degree in Transportation or Industrial Design is a requirement for a car design career. The necessary coursework provided includes sketching, physical science, design and computer-aided design, manufacturing methods, industrial materials and engineering. You will need to have good grades in high school in art, design, mathematics and physics in order to be accepted into one of the 20 Industrial Design Schools across the country that are accredited from the National Association of Schools of Arts and Design.
Skills
A career in car design requires a skill in basic sketching with pencils. Car design requires creativity and the ability to create designs that don't already exist. They must have the vocabulary to adequately describe their designed products and know the language of automotive studios.
Portfolio
A good portfolio that contains your design work is needed to apply for coursework in car design as well as for jobs. The portfolio can be in panoramic booklets in A2 or A3 format and digital portfolios saved on CD can be accepted as well. Be sure to choose sketches that contain a design line that's consistent and also include a variety of sketches that shows a broad range of your ideas.
Salary
According to Simply Hired, the average salary for a career in car design is $60,000.
References
Writer Bio
Charlotte Mission is an avid reader and writer. She has written professionally for over 5 years and for pleasure for many more. Her work has appeared on eHow.com and AssociatedContent.com. She is currently pursuing a degree in History.