A medical support assistant is someone who handles clerical duties for a hospital, family practitioner or other health care facility. Medical support assistants greet patients, answer phones, schedule appointments and remind doctors of their agenda for the day. They also handle filing related to the practice or facility in which they work and, in some instances, handle some billing and bookkeeping procedures. Occasionally, medical support assistants have obtained the education and background necessary to check a patient's vital signs.
Basics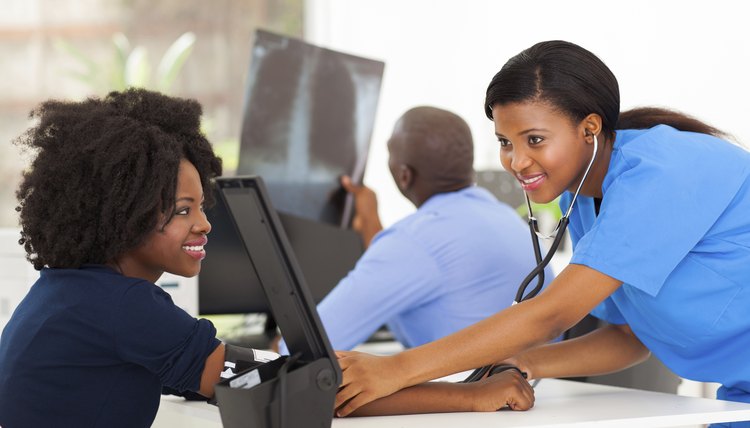 Hongqi Zhang/iStock/Getty Images
Medical support assistants provide crucial links between doctors and patients. A medical support assistant is often the first person a patient sees when entering a medical facility and, therefore, needs to be prepared to deal with injured or sick individuals. Oftentimes, medical support assistants use forms to gather information about a patient, such as name, age, address, medical history and possible allergies. They also handle forms related to a patient's insurance. Some medical support assistants work in hospital emergency rooms, where they often need to work quickly and inform physicians of the urgency of admitting a patient. In almost all cases, medical support assistants perform a wide array of duties that change regularly, perhaps even daily.
Skills
DAJ/amana images/Getty Images
Medical support assistants need to be strong communicators, as they must relay important information regarding patients to the physicians who will treat them. They also must make patients aware of future appointments and payments. Medical support assistants also need to be organized, courteous, professional, capable of following instructions from a physician and work well alone. On top of those things, they should possess basic office skills such as typing and forwarding mail, as well as those related to computers and billing.
Background
Wavebreakmedia Ltd/Wavebreak Media/Getty Images
Medical support assistants typically need no more than a high school diploma (or the equivalent) to get hired. Most are able to learn on the job, provided they own a strong work ethic and positive attitude. Some have worked as administrative assistants, receptionists or secretaries in other industries, and some have even obtained a license or certificate related to clerical work. Meanwhile, those who handle aspects such as lab work or taking vital signs on top of their regular duties typically need at least an associate's degree, with an emphasis on courses in health, communications, business, administration and math.
Prospects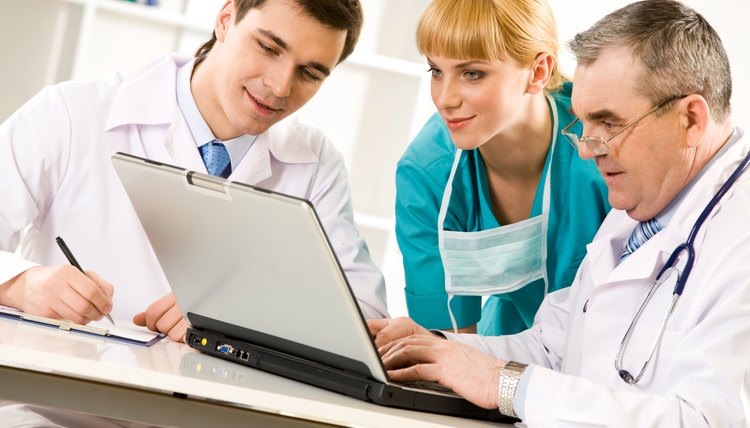 Dmitriy Shironosov/Hemera/Getty Images
Opportunities for medical support assistants are expected to be abundant during the next decade. According to the U.S. Bureau of Labor Statistics (BLS), jobs for medical assistants will grow by 34 percent from 2008 to 2018, which is almost triple that of the projected growth of all other occupations during the same time frame. Nearly 484,000 workers were employed as medical assistants in May 2008, the BLS reported.
Earnings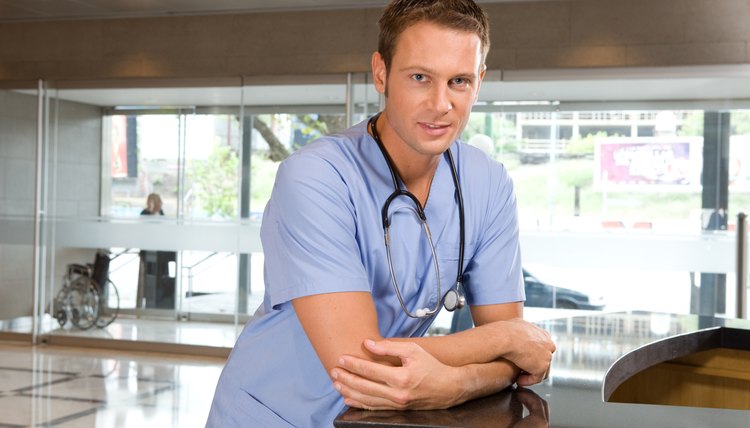 Iromaya Images/Iromaya/Getty Images
Medical assistants earned anywhere from nearly $23,000 to more than $33,000 a year in April 2010, according to PayScale. Meanwhile, the BLS reported that the median annual salary for medical assistants was $28,300 in May 2008.
2016 Salary Information for Medical Assistants
Medical assistants earned a median annual salary of $31,540 in 2016, according to the U.S. Bureau of Labor Statistics. On the low end, medical assistants earned a 25th percentile salary of $26,860, meaning 75 percent earned more than this amount. The 75th percentile salary is $37,760, meaning 25 percent earn more. In 2016, 634,400 people were employed in the U.S. as medical assistants.